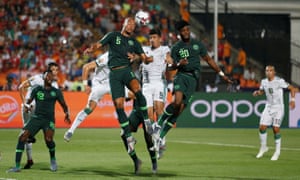 It was 1-1 draw. Ighalo scored via penalty for Nigeria. Algeria was leading Nigeria by 1-0. Surprisingly it was Super Eagles player that scored the goal for Algeria. Two of the more talented teams in Africa face off on Sunday in the Africa Cup of Nations semifinals as Algeria and Nigeria face off, with the winner moving on to face either Senegal and Tunisia in the final on Friday. Nigeria got a 2-1 win over South Africa
in the quarterfinals, while Algeria got by Ivory Coast on penalty.
Senegal
Vs
Algeria: AFCON Finals, Friday 19th July At 8pm
«
Nigeria
Vs
Tunisia: AFCON Third Place, Wednesday 17th July
«
...
GUYS, WHAT DO YOU THINK?
....................................
FACEBOOK COMMENTS